16-07-2020, 09:19 PM
The Power of Full Engagement

The Power of Full Engagement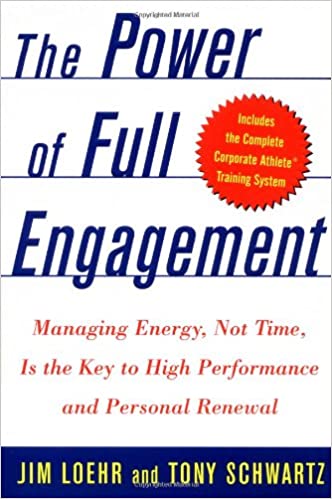 Code:

Recommended by Eben Pagan.

For 25 years, Loehr and Schwartz have conducted intensive training with professional athletes to help them perform at peak levels under intense competitive pressures. They are not involved in the physical training process, however. Their intervention focuses on effective management of our most precious resource, our energy. They have found to their surprise that the performance demands most people face in their everyday work environments are often tougher than those professional athletes face. Because athletes train constantly, they are more prepared, whereas most people are in the work game 8 to 12 hours a day with little or no training at all. Most of us are constantly trying to manage time; here, the authors have instead set out a prescription for managing energy on every level: physical, emotional, mental, and spiritual. You are likely to find some of yourself in one of the many case studies they provide to illustrate their techniques. Some of what they say is reminiscent of Tony Robbins' self-help material, but without all the hype it's easier to digest. David Siegfried
Code:

https://nitroflare.com/view/098DFFB2BF20C95/The_Power_of_Full_Engagement.rar
OnGoing "Group Buy" - Save 98% of Original Product Cost
.
.
Exclusive V.I.P. Memberships for TvBB Members
.
.
Kindly Buy

NitroFlare

 Premium Account using our Download Links...
Support Us, We will bring you More Valuable Bussiness Materials
--------------------------------------------------------------------------------------
Search Here...
|
If u cann't Find...? 
|
Request Here...