01-07-2020, 04:38 AM
Bob Proctor - The Expression of Your Power

Bob Proctor - The Expression of Your Power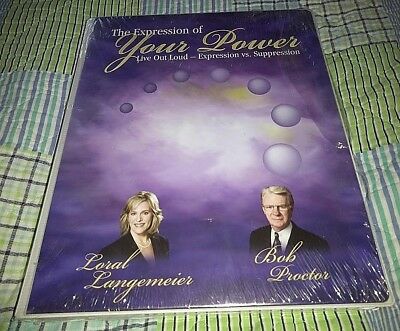 Code:

Bob Proctor - The Expression of Your Power
Live Out Loud
ISBN: 097272530X
ISBN-13: 978-0972725309
MP3 @ 128 kbps

Teaming up with her longtime mentor and friend, Bob Proctor, Loral designed this interactive audio program to help you explore the concept of Live Out Loud, emphasizing expression vs. suppression of your vision, your purpose, and your beliefs. This creative strategic process for financial and personal independence and freedom introduces you to:
* The Creative Strategic Process, where better results come from better behavior
* Developing the calmness and relaxed state of those at the top of their game
* Opening up to inspiration, information and power
* Freely and effectively expressing your creativity
* Turning your dreams into a new way of life
* Pursuing the Wealth Cycle with your values and vision firmly intact

Loral Langemeier, the woman who makes millionaires and Bob Proctor, the man who has spent 40 years helping people to create lives of prosperity, rewarding relationships and spiritual awareness bring you an unprecedented opportunity for Independence and Financial Stability with Expression of Your Power!
In this program you will learn:

• How to recognize and eliminate your limiting beliefs that have been holding you back.
• A highly effective learning model that will set your personal thermostat for immediate success
• How to turn confusion in to order, creating calmness and confidence in your life.
• How to eliminate destructive mental cycles and replace them with a creative strategic process that will prove effective for any project.
• How to maximize your results by setting the right sized goal.
• How to financially forecast your future.
• How to reprogram your thinking for optimum results.

About the Author
A pioneer in financial coaching, Loral Langemeier M.A. CPPC and founder of Live Out Loud, empowers individuals to build wealth and achieve financial success. Her unique coaching style is based on establishing a personal Financial Life Cycle.
Almost more important than financial wealth, is building the characture to create it. Beginning with developing financial literacy based on straighforward principals and concepts, establishing a foundation upon which to build stability and direction, Langemeier helps establish measurable financial goals with action oriented steps.

With a background in personal and organizational development in Fortune 1000 companies, she has been able to effectively inspire audiences to embrace her philosophy for financial development, and apply it to a realistic financial roadmap. Combining down to business candor and solid financial principles, Langemeier has emerged as one of the most exciting business and motivational speakers to hit the lecture platform. Loral Langemeier's wealth building programs are filled with substance, insight and applicable value.
Code:

https://nitroflare.com/view/0C7156BD894F28D/Bob_Proctor_-_The_Expression_of_Your_Power.rar
OnGoing "Group Buy" - Save 98% of Original Product Cost
.
.
Exclusive V.I.P. Memberships for TvBB Members
.
.
Kindly Buy

NitroFlare

 Premium Account using our Download Links...
Support Us, We will bring you More Valuable Bussiness Materials
--------------------------------------------------------------------------------------
Search Here...
|
If u cann't Find...? 
|
Request Here...